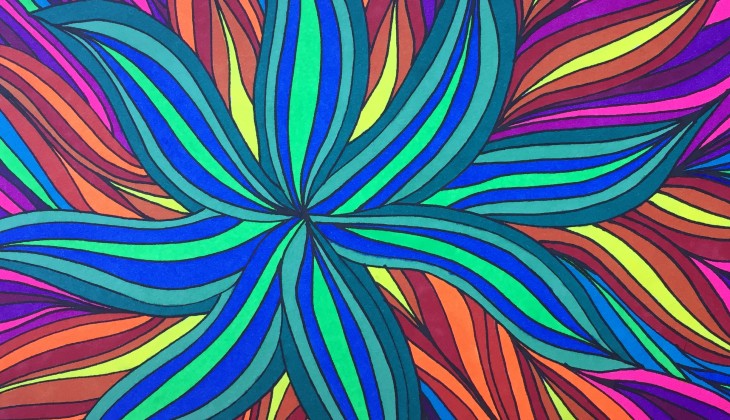 Sharpie Neon Markers are perfect for coloring adult coloring books! If you are like me, you might be thinking neon markers would be better suited for coloring those black fuzzy posters. Add a blacklight and we're talking serious cool, right? Right. I won't dispute that fact, but despite my early skepticism, these Sharpie Neon Markers are also fantastic for coloring your adult coloring book. Honestly, I probably never would have tried the neon markers. I thought they would just be too bright to look good in a coloring book. A short time ago, though, my husband surprised me with a very fun birthday present – metallic sharpie markers (review of metallics here), and a package of neon markers. I looked at both packages with a forced smile and thanked him. When I first started coloring with the neon markers, I was not thrilled. My markers came in a package of four colors – pink, yellow, orange, and green.
Sharpie Neon Markers Create Stunning Results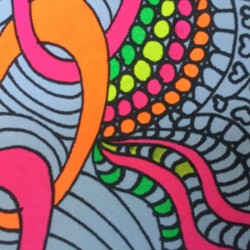 I started with the yellow marker and was not pleased with the immediate results. Initially, the yellow marker seemed to be very weak. Within a few seconds, as the yellow marker ink dried, the color changed to a very strong and pleasing yellow color. If you carefully look at this image, you can see the difference between the wet and dry color. The yellow circles here are dry and really stand out. the "stripes" on the left side  are wet and the color is not nearly as pretty. But just wait a few seconds and your color will be vibrant and strong.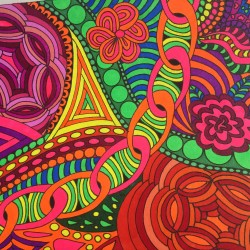 This is the finished image. I wasn't sure how the Sharpie Neon Markers would look with a mixture of so many colors, but I think this page from 2 Old 2 Color: Playful Heart turned out nicely. Notice how the yellow, orange, green and pink colors "pop" but do not overwhelm the entire image.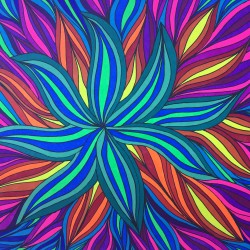 In this image from 2 Old 2 Color: Groovy Girl I chose to combine darker colors with the neon highlights. I started in the center with the neon green and then added shades of blues and greens. I then did the same thing using neon yellow, pink, and then green again on the outside edges. Since I colored this image I came across a package of Sharpie Neon Markers on Amazon that includes a blue marker. I ordered immediately. I can't wait to try out the blue!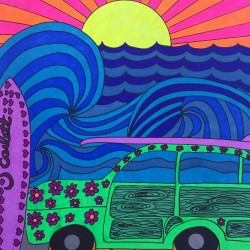 For this last image from 2 Old 2 Color: Groovy Girl, I wanted to color most of the picture with the Sharpie Neon Markers. The sun and the sky were colored using yellow, pink, and orange. The car is neon green and the words at the bottom of the page were colored with neon orange and pink. I wish I could have had that blue neon marker for some of those waves!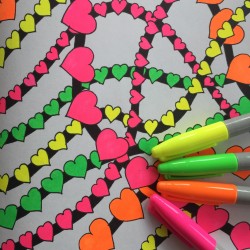 This image was created using only Sharpie Neon Markers and a regular black Sharpie. It was the first time I ever used a black marker for coloring and I love the result! 2 Old 2 Color: Playful Heart
I normally do a pros and cons list for my reviews. In this case, however, I don't have any cons. Just go buy these Sharpie Neon Markers. They will make you feel groovy.