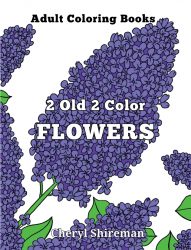 We are delighted to announce the release of our new 2 Old 2 Color Flower Adult Coloring Book! Spring always turns my thoughts to flowers and you will find plenty of beautiful flowers to color inside this brand new coloring book for adults! Peonies, lilies, tulips, daisies, roses, hibiscus, orchids, and more! Like all of our 2 Old 2 Color Adult Coloring Books, these 40 flower images are printed on one side of the page for easy coloring. Some images are detailed and others are less detailed, so you are sure to find a flower to suit your coloring mood! Perfect for permanent markers, crayons, or colored pencils. If you love to shade your pictures, these beautiful drawings of flowers are particularly well suited for shading.
I have loved flowers for as long as I can remember. When I was a child my grandmother gave me some moss roses that I planted in a pitiful and much-neglected dirt patch in the back yard. Then as a young woman I planted gladiolus along the front of my first home, a dilapidated mobile home set on fifty beautiful acres. Soon I added orange daylilies to the  strip of gladiolus. My mother's neighbor was thinning out her daylily patch and I received those thinned plants. It was the beginning of an obsession. Through the years I bought many kinds of perennials but daylilies remained my favorite and I was always looking for new varieties. Moving three times did not slow down my flower collection. Through all three moves, I dug up my flowers (hundreds!) and took them with me. Now, I sit in a lovely lake home surrounded by those same flowers. They feel like old friends.
So, a while back when I was thinking of a new adult coloring book project it was only natural that flowers would come to mind. I had so much fun drawing these flowers, and even more fun coloring them. I hope you will enjoy coloring these flowers too! The lilacs on the front cover was one of my favorite images and as soon as I started coloring it I knew that it would just have to be the cover. If you find that you have a favorite flower image from Adult Coloring Books 2 Old 2 Color FLOWERS I'd love to hear from you in the comments below. I find that as soon as I finish an image I want to color it again in a different color! Still flower crazy after all these years.  🙂
Happy coloring!