As soon as you buy an adult coloring book, the hunt for the perfect coloring tool begins. If you are  a frequent visitor to this website, you have probably read my review of Markers, Gel Pens, and Coloring Pencils for Your Adult Coloring Book. This post is narrowed down to markers; specifically two brands of markers – Bic Mark-It markers and Sharpie Markers. My first love was Sharpie markers. You have to love Sharpie markers. I grew up with Sharpie markers, but the markers I remember were only available in a handful of colors – black, blue, red, and green. Now, though, Sharpie comes in a nice variety of colors, 68 at my last count (see our illustrated list of Sharpie colors).  When I first started coloring in adult coloring books, I naturally chose Sharpie markers because I was familiar with the brand. I was pleased to find that Sharpie markers were available in a wide array of colors, including Neon and Metallic. Recently, however, I bought a package of Bic Mark-It markers.
I wanted a valid comparison between the two brands, so I colored the same page from 2 Old 2 Color: Wild Child using similar colors. The result is above. While coloring, I noticed several differences between the markers. Here is a summary of those differences…
Bic Mark-It Versus Sharpie Markers
Color – I would have to say this is a toss up. The Bic Mark-It markers might produce a slightly brighter result, but both products provide rich, beautiful colors.
Variety of colors – As far as I can determine, both brands are available in about 40 something readily available colors. In the past Sharpie has come out with Limited Edition colors which are no longer available.  If all of their colors were still available, their total would be at least 68 colors. In this respect, I would call it a tie between the two brands.
Neon – Sharpie has five neon colored markers. As far as I can tell, Bic does not offer any neon markers. Sharpie wins.
Metallic – Sharpie offers three beautiful metallic colors while Bic offers eight metallic markers. Bic wins.
Number of Markers per package – Sharpie typically offers 24 markers in their large packages while Bic offers 36. Bic wins.
Cost – As of this writing, I found a package of 24 Sharpies for $12.97 and a package of 36 Bic Mark-It markers for $16.12. That's 50 cents per Sharpie and 44 cents per Bic. Bic wins.
Labeling – Sharpie does not label any of their markers, so you never know the name of the marker you are using. This is particularly difficult in the case of many of their blue markers which have caps that are very similar in color (see my post where I identified most of the Sharpie colors). Bic labels all of their markers with cool names such as Fandango Pink and Oceanview Blue. Have to say, I love this! Bic wins.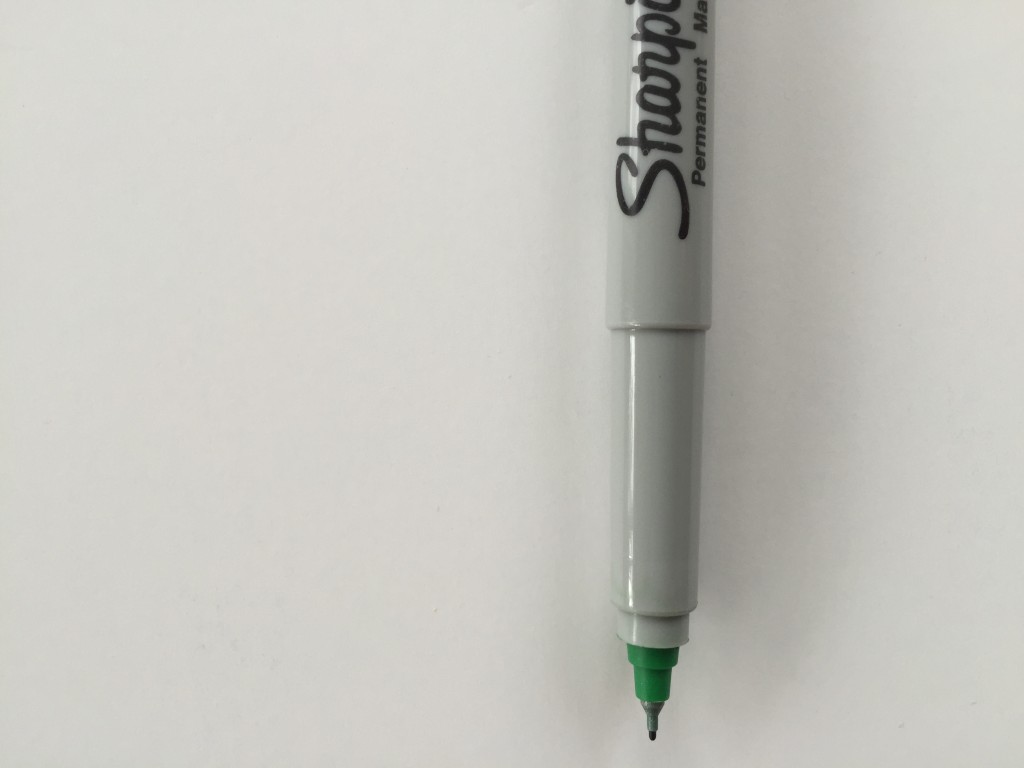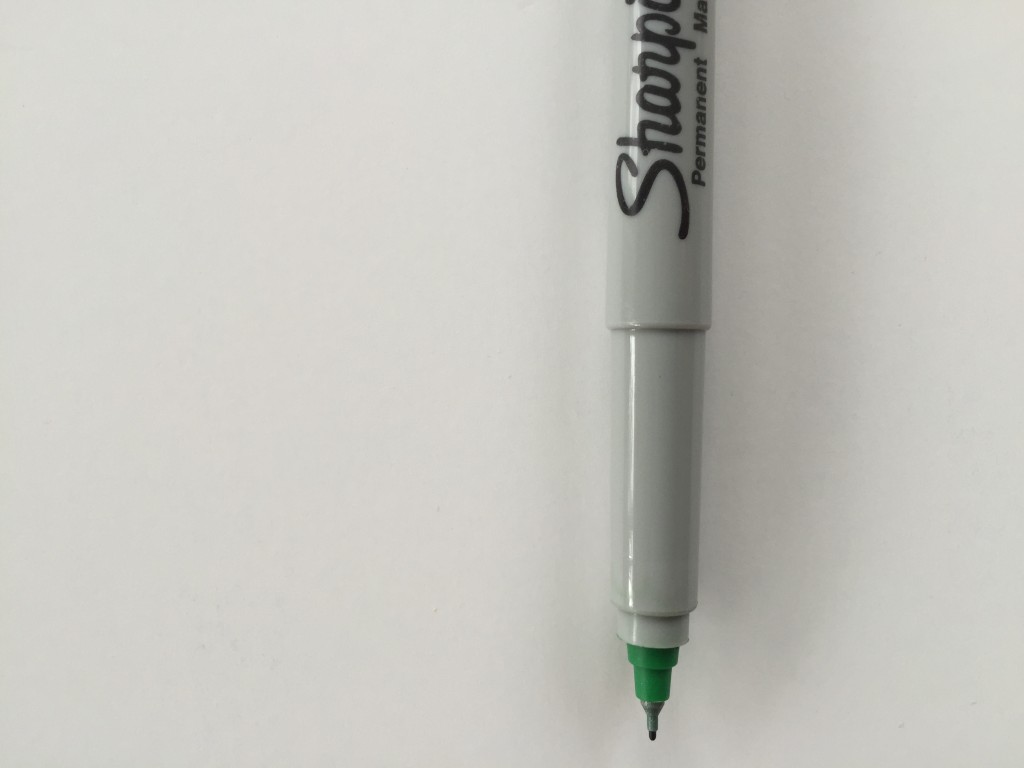 Comfort – Sharpie pens fit well in your hand, but Bic adds a nice comfort grip to their pen. We like this a lot. Bic wins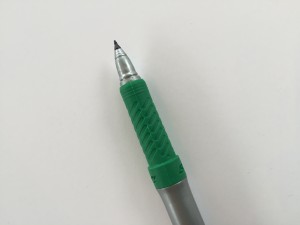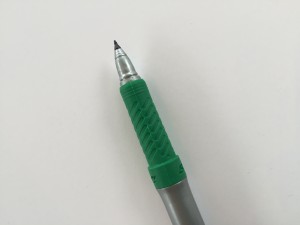 Pen design – Our one complaint with Sharpie markers is that the lids often do not close fully unless a good deal of pressure is applied. The Bic pens click closed with very little effort.
Duration of use – The Sharpie markers last a long time and I feel they are a good value. I have not had the Bic Mark-It markers long enough to test how long they will last. I will update this blog in the future when I can determine that.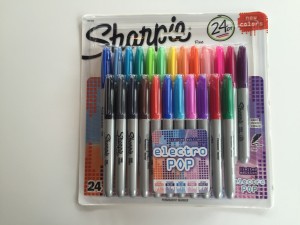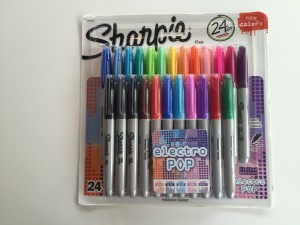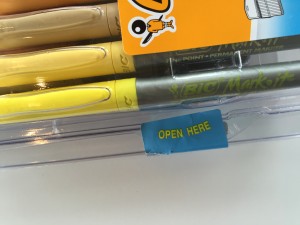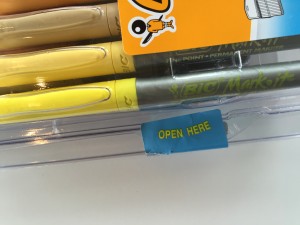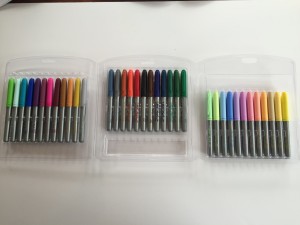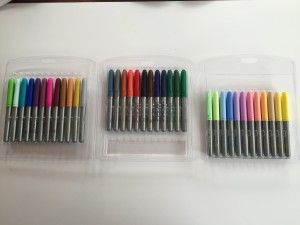 Container – Sharpies come in a plastic sleeve that is difficult to open. I'm sure it is great for shipping, but not so wonderful for the consumer. I usually use scissors to open my Sharpie packages. The Bic Mark-It markers came in a tri-fold case that was easily opened after peeling off one sticker. Then the case folds open and becomes a great way to store and use your Bic Mark-It markers. I really love this feature and have to say Bic wins again.
Before ordering the Bic Mark-It markers, I fully expected to prefer the Sharpies. Honestly, I thought the Bic product would fall far behind Sharpie standards. But, as you can see, the final tally is out of 10 comparisons, Bic wins 6, Sharpie wins 1, 2 categories are a tie, and one category (duration) is an unknown. Does this mean that I prefer Bic Mark-It markers over Sharpie markers? Yes, maybe, but just by a smidge. I love both of these brands and both companies make a fine product. Duration would be a big factor for me, so I still cannot judge the Bic product fully until I see if they last as long as the Sharpies. I'm hoping they do! Personally, I will be buying both of the products. One can never have too many colors!
Coming soon – a Bic Mark-It and Sharpie marker color chart with all colors combined! Stay tuned!