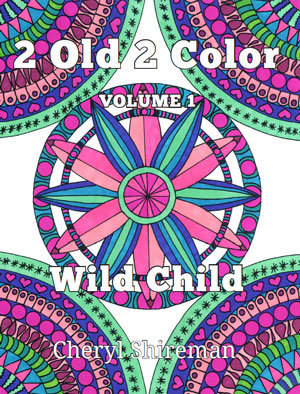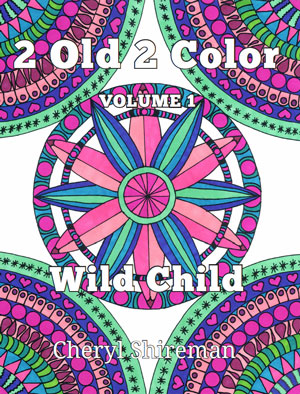 I've always loved to color. It's always been kind of a running joke between me and my husband. I'd be sitting on the couch coloring in one of my kids' coloring books (even after the "kids" were long gone!) and I would lament, "It would be great to do this for a living. I just need someone to pay me to color." He'd roll his eyes – as he often does after my off the wall comments.
Fast forward to not so long ago. My youngest daughter Scarlett started doing doodle art for fun – which is basically doodling with a black Sharpie marker and then coloring in the images with colored Sharpie markers. She urged me to give it a try but I resisted. I was so busy writing novels that I just didn't feel I had extra time to "waste" sitting and coloring (sad, but true). She kept doodling and coloring and after seeing a few of her pieces, she inspired me to give it a try. I bought some markers and marker paper and started doodling and coloring.
A few weeks later we made a trip to visit Scarlett and my other daughter Lee Anne. I took my paper and markers along. As soon as my daughters saw my doodles, they told me I should be selling them. It seemed like a silly idea at the time. My son-in-law Dylan (quite the entrepreneur) also encouraged me to create a coloring book for adults. I resisted and kept doodling.
My Adult Coloring Book Comes to Life
While visiting my daughters I received some bad news about my father (he was diagnosed with Alzheimer's). As that nightmare unfolded over the next month, I found myself doodling more and more. I became obsessed with it. It provided a stress relief that I could find in no other activity. Soon, I had enough images for a book. As a writer, I create novels so it wasn't too much of a stretch to create another kind of book – a coloring book. I compiled my images and published the first volume in the 2 Old 2 Color series – Wild Child. More volumes will be coming soon. I find that I enjoy creating and coloring these images so much that I can't imagine that I will be stopping any time in the near future. So, why not share them with you?
I hope you enjoy coloring these adult coloring books as much as I enjoyed creating them. Happy coloring!  
— Cheryl Shireman