15 Great Adult Coloring Book Coloring Tips!
I'm often asked how I create such pretty pages in my coloring books. Everyone wants adult coloring book coloring tips. In the past, I've thanked whoever made the compliment and shrugged my shoulders. Honestly, I never gave it much thought. I just color with markers and the result is usually a pretty page. Recently, though, I noticed certain coloring techniques that I repeat and I thought I would share them with you.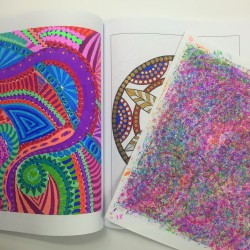 Use a Scrap Piece of Paper Between Images This seems like a pretty obvious adult coloring book coloring tip, but I've talked to plenty of people who have forgotten to place a paper between pages and ruined the image on the next page when the marker bled through.Get in the habit of keeping a scrap piece of paper in your coloring books. As soon as I choose which page to color, I immediately slip this piece of paper behind the image to protect the page directly behind the one I am coloring. After you color lots of pages, your scrap paper will begin to take on a beauty of its own!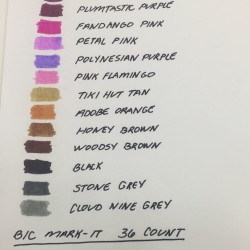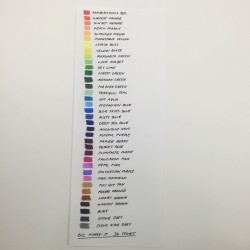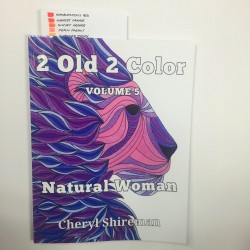 Make a Color Sample Chart This is one of my favorite adult coloring book coloring tips. There is nothing worse than starting to color a page and then realizing the marker is not the color you thought it was. To prevent this, make a simple color sample chart. Your chart does not have to be as complex as my Color Chart For Sharpie and Bic Mark-It Markers. For that chart, I typed out a large list of Sharpie and Bic marker color names and then posted samples next to each name. Instead, you can do an easy chart in a relatively short time on folded sheet of paper that you can use as a bookmark in your coloring book. For easy reference, I suggest grouping your markers by color. If you are using Sharpie markers and you don't know the names of the colors, refer to my Sharpie Colors post. I actually added small stickers with the color names to my Sharpies so I could always identify them. It might be a bit of overkill, but it makes life easier.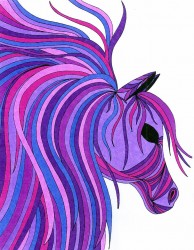 Go Crazy With Color Unless that is your intention, don't worry about the natural color of things. Don't be hobbled by sticking to "real" colors. If you want to color a cloud bright red, then do it! Let go of any kind of limitations and should and shouldn'ts. Let your imagination run wild and go for it! And if you want to color a horse purple and pink, then by all means color him pink and purple! Image from 2 Old 2 Color Volume 5: Natural Woman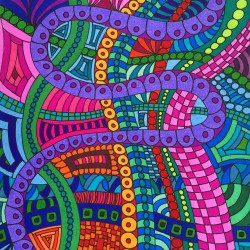 Use Color Pairs When I examine my coloring habits, I find that I tend to color in pairs. Even if I am coloring a page with lots of different colors, I tend to pair colors that look good together. That might be a light and dark shades of the same color, like I used in this image. I combined shades of purple running through the center, pinks in the checkerboard, and many combinations of light and dark greens throughout. The pairing could also be a pleasing combination of different colors like the vertical stripe down the center colored with blues and greens. 2 Old 2 Color Volume 5: Natural Woman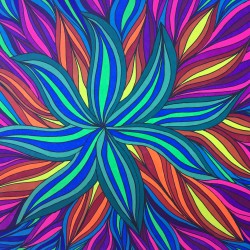 Combine Neon and Regular Markers Although I would have loved to have neon markers back in the "old days" when I had a black light, I never wanted to try out neon markers. I thought they would be too bright. As luck would have it, my husband bought some neon and metallic markers for me. I pretended to be delighted, but honestly wasn't really interested in using either variety. Okay, that was dumb. I love the combination of neon and regular markers and this is one of my very favorite colored images! I used Sharpie neon yellow, orange, pink, green, and blue in this photo. Image from 2 Old 2 Color Volume 3: Groovy Girl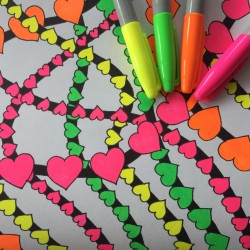 Combine Neon and Black Markers Talk about a contrast! Just look at the beautiful contrast between these brightly colored Sharpie neon markers and a black sharpie! Use the black Sharpie in areas that you want to recede. Notice, too, how the black unites the entire image. If I used different colors on all of the black areas, the image would look disjointed and too busy. Image from 2 Old 2 Color Volume 2: Playful Heart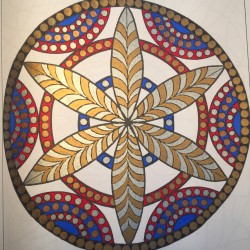 Combine Metallic and Regular Markers Remember the metallic markers that I just mentioned? The ones that my husband bought me and that I didn't want? Okay, well, I was wrong about those too (don't tell him). I love the Sharpie Metallic Markers, despite the fact that they are available in only three colors – Silver, Gold, and Bronze (and the Bronze color is very close to the Gold color). Bic also makes metallic markers and unlike the Sharpies, they are available in * colors. Personally, I prefer the Sharpie Metallic Markers. The ink flows nicely and the colors are really nice (albeit limited). Image from 2 Old 2 Color Volume 2: Playful Heart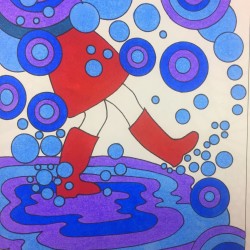 Combine Bold and Pastel Colors Notice how the red boots and raincoat pop when surrounded by the soft blue and purple pastels. I also used a bolder blue in parts of the image, but the red boots are the first image you notice. When you want to highlight something on your page (like those red boots!), try combining a bold color with pastel colors that are closely related (like these blues and purples). In this instance, I used mostly Bic Mark-It Markers. They have some lovely pastels available in the 36 count package. Image from 2 Old 2 Color Volume 2: Playful Heart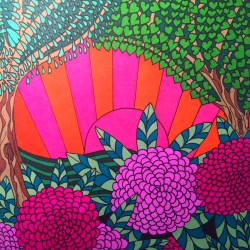 Use Dark and Light Colors for Contrast The use of very dark and very bright colors adds depth to your colored images. Note the dark green in the trees compared to the bright sun rays. Also, the black found in between the green leaves brings the leaves to the forefront. Image from 2 Old 2 Color Volume 5: Natural Woman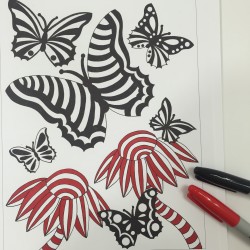 Leave Sections Uncolored It goes against my "all or nothing" nature, and it was a bit difficult to resist "finishing" this image, but sometimes I color a page and leave sections uncolored or white. Look at the lovely results on this page from using only two markers – red and black! Image from 2 Old 2 Color Volume 5: Natural Woman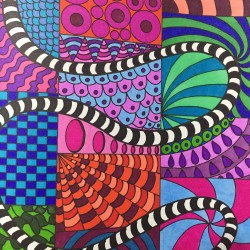 Add a Little Black and White to Colored Images I rarely ever used my black markers until I was inspired by a fellow author, Shandy Kurth. She shared one of her colored images in our 2 Old 2 Color Facebook group and I was blown away by her simple use of black and white in many of her colored pages. Inspired, I grabbed by long-neglected black Sharpie and started coloring. I love it! I'm a convert. Image from 2 Old 2 Color Volume 5: Natural Woman

Share Your Finished Work Remember when you were little and you carried those art projects home to share them with your parents? If you walked home from school, you carried your beautiful artwork carefully, afraid of dropping it. If you rode the bus, it was even more of an issue. Remember how dirty the school bus floor was? Enough said. I still have a little bit of that same excitement every time I finish coloring a page. I want someone to see what I just colored! I used to show all of my colored pages to my husband. He always smiled and feigned enthusiasm, but let's face it, how many ways can he think of to say "Nice!" I needed another outlet. I took photos of my work and sent them to my busy adult daughters. They were kind, too, but I needed fellow coloring book enthusiasts. Only they would really get it. It didn't take long before I came up with a solution. People who were buying my coloring books were already sharing their colored images on Facebook. So, I thought, why not create a Facebook group just for sharing images from my adult coloring books? So the Facebook 2 Old 2 Color Gallery was created. We post our colored images from the 2 Old 2 Color books, share adult coloring book coloring tips, and discuss the best art supplies. It is so fun and I've met some really great women. You should join us! Happy coloring!!!
"I found I could say things with color and shapes that I couldn't say any other way – things I had no words for." Georgia O'Keeffe