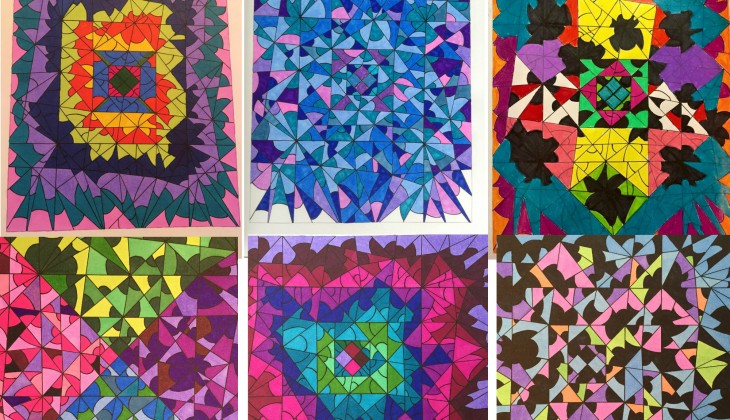 One Page Colored Many Ways!
Get ready to unleash your creativity with adult coloring books! Are you ready? Read on!
A Facebook friend of mine, Shandy Kurth, posted a page in my 2 Old 2 Color Gallery Facebook group. Shandy did a great job of coloring the page and I really enjoyed it. The problem was, she said the page came from one of my books and it did not. Or at least so I thought. When she told me exactly what book the image was from I went to the book and had a difficult time finding the image within the book. When I finally did find the image, I was shocked. Shandy had colored the image in a pattern that just shocked me. I never saw that pattern on that page. A group of us started talking about the image and we all decided to each color the image and compare the results. Just look at all of the different images that we came up with.
First, take a moment to look at the uncolored image. What do you see here? How would you color this page?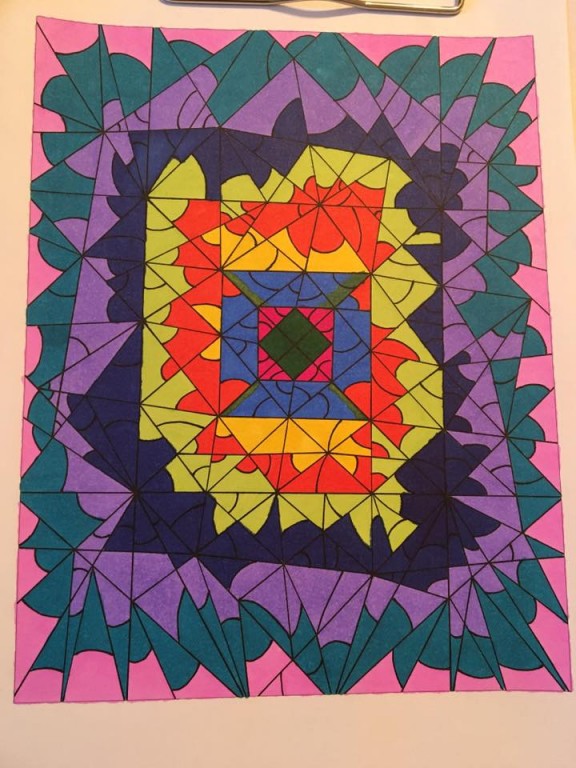 This is the image Shandy colored.  When she looked at the image she saw different colors moving in toward a center square. I love how she started with the pink color on the outside and then moved in with different colors. I also love the use of black. Shandy inspires me with her use of black. My poor black markers often sat idle and unused before Shandy inspired me to get Blackie out and let him play with the other pretty colors.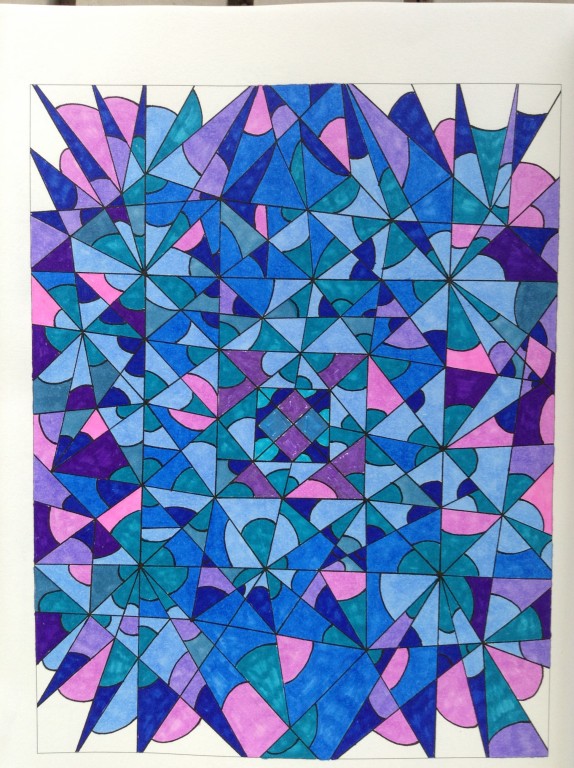 This image was colored by Vickey Lindsley. Notice how different this same image looks from the first. It is difficult to believe these are the same image. What I love about adult coloring books is that they really do unleash your creativity. Look at the difference between the artwork of these two women! Vickey's image is a bit wilder with less of a pattern. She also used fewer colors and despite the wild pattern, the overall image gives a cohesive feel with these color choices.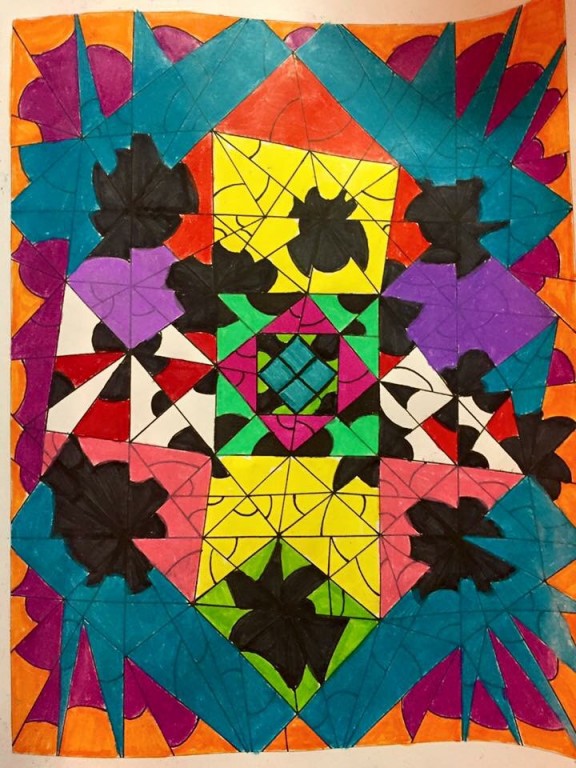 This image was colored by Beth Kramer, another member of my 2 Old 2 Color Facebook Gallery group. I love all of the bright colors Beth chose. Also notice that she did not color each individual space a different color but instead chose to color blocks of bold color. I think this gives this image a real abstract feel. I also love the contrast of the very bright colors and the very dark colors.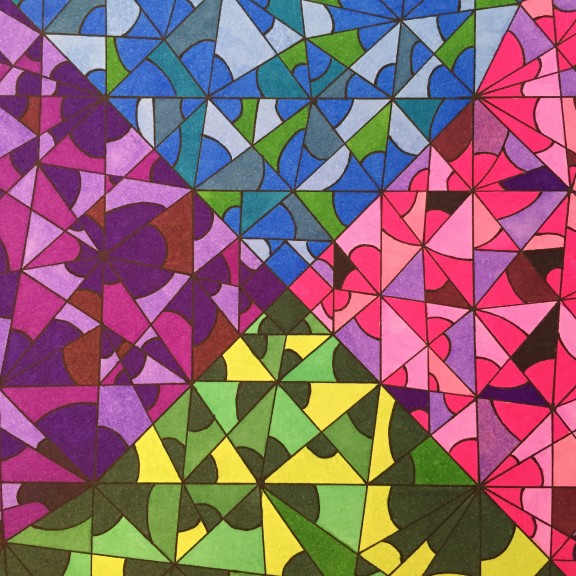 I colored this image and I have to be honest and say that I almost didn't finish it. Although this is how I originally saw the image (as four large triangles), once I started coloring it (and after seeing Shandy's image) all I could think was – BORING! Despite my misgivings, I did finish coloring it. Although I still have to say – yawn. The four triangles just don't work for me anymore.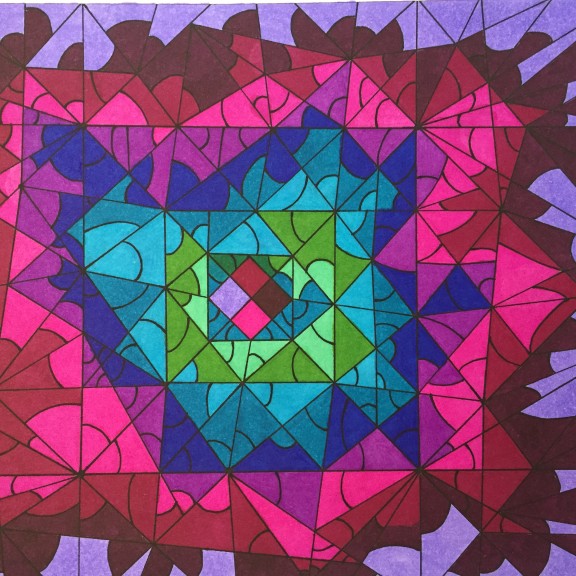 This is the second image I colored. I definitely like this image better than the first. I like the warm tones and the fact that this colored image is less geometric and a little more wild. I also love the pinks and purples. It is difficult for me to color a page and NOT use pink and purples!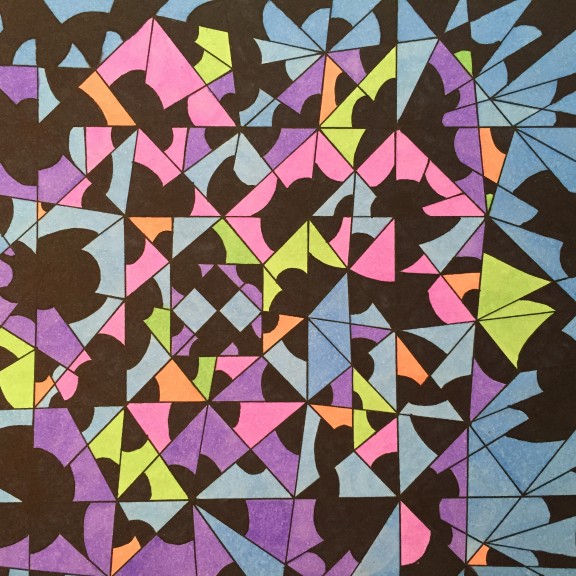 This is the third image I colored and of the three I colored, it is my favorite. Love the contrast of black against the soft blues, pinks, and purples. I also think the bits of orange and green add a nice contrast.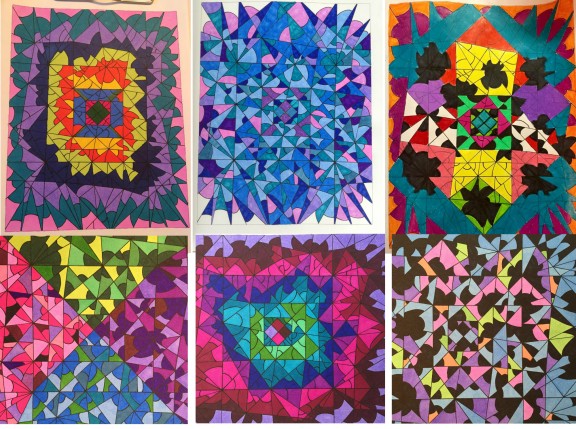 So there you have it.  Six versions of the same image. Creativity unleashed! Perhaps we have the adult coloring book version of a Rorsach Test. What do you see in this image? Color it yourself and unleash YOUR creativity! If you'd like to see your colored image here, just contact me via the contact page on this website and I'd be happy to add your version of this image to this collection!
All of these images are from a page in 2 Old 2 Color: Natural Woman and were colored using Bic Mark-It and Sharpie markers.