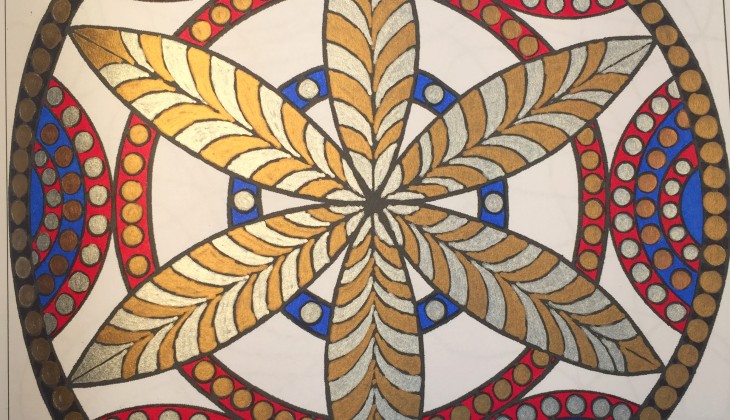 I LOVE Sharpie Metallic Markers for Coloring Adult Coloring Books!
Okay, how long have Sharpie Metallic Markers been available? I feel like I've been missing out on something. I've seen metallic gel pens (and have reviewed some here) but I never knew I could buy Sharpie Metallic Markers! Come on! How did I miss this memo? Sharpie – can you put me on a list or something? When you come out with something as cool as Sharpie Metallic Markers I need to know!
My husband surprised me with my first Sharpie Metallic Markers recently for my birthday. Let me just get this out of the way – I LOVE THEM! They are available in gold, bronze, and silver. Here is a package of six (two of each color) for a great price. I colored this page using the three metallic colors and three regular Sharpie colors – black, blue, and red. These would be wonderful not only for coloring adult coloring books, but also for holiday projects and all kinds of crafting.
PROS
Sharpie put the name of the color on each marker. That is my only complaint about their other makers – how about it Sharpie? Let's get all of those marker colors named!
Velvet smooth to color with. Almost as if you are using paint.
Dries very fast, like all Sharpie products.
Beautiful, shiny effect and bold colors
Excellent coverage and no stroke marks.
CONS
The Bronze and Gold color are very similar in color and hard to distinguish from each other. (I used the Bronze in the blue half circles)
The package recommends storing with "tip down." I've never seen that on their other products.
There aren't enough colors. I've only seen three so far. But I'm hoping for more!
These colors are not transparent, so if you go over the line on your page, that line will be erased. That can be a pro or con, depending on how you like to color.
Odor is stronger than with regular markers.
Yes, I love these Sharpie Metallic Markers. I can't wait to color another picture and use them. Now, I'm going to go see if Sharpie has a mailing list for new products….
Image from Volume 2 of the 2 Old 2 Color series of adult coloring books – 2 Old 2 Color: Playful Heart