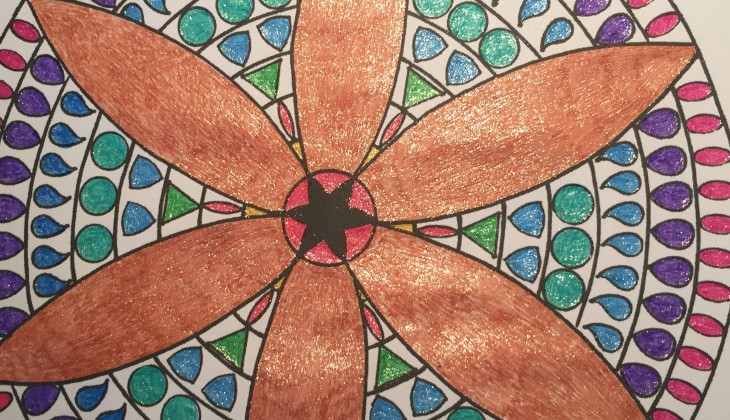 You've bought your adult coloring book. It comes in the mail and you frantically open the box and start flipping through the pages. There it is, in your hot little hands, coloring bliss! You cannot wait to start. If you have kids, you start wondering where their crayons are. But then you remember those dull little sticks of color, many of them broken. And most of them sticky. No, this is YOUR coloring book and you want your own crayons. Or Sharpie markers! Or maybe gel pens? Hmmmm….what's a girl to do?
The first question I am asked about my adult coloring book series, 2 Old 2 Color, is – Where can I buy them? I promptly answer that the books are available on Amazon and Barnes and Noble.
Amazon –     2 Old 2 Color: Wild Child        2 Old 2 Color: Playful Heart
Barnes and Noble –       2 Old 2 Color: Wild Child          2 Old 2 Color: Playful Heart
The very next question is ALWAYS – What do I use to color the book? That answer takes a little longer….
I have used a variety of art supplies to color the images from the 2 Old 2 Color series and here are my thoughts on various art supplies and images of each. I hope this helps you to decide!
SHARPIE MARKERS
All of the cover images you see on the 2 Old 2 Color books were colored with Sharpie Markers. I love the dark rich colors of these permanent markers and they come in a variety of colors. When it comes to Sharpie Markers, there are two varieties – Fine Point and Ultra Fine Point. The "Fine" tip isn't actually very fine and is the type of marker that you probably think of when you think of a Sharpie Marker. Perfect for labeling stuff around the house or for using on moving boxes. The "Ultra Fine" is more of what I think of as a fine tip marker. Fortunately for us, the Fine and Ultra Fine both work great for coloring. I would suggest that you get one of each. Use the Fine tip Sharpie marker for larger areas and use the Ultra Fine for smaller areas. You will thank me for this. I love the Sharpie 80's Glam packagethat comes with 24 different colors – including 5 new "80's Glam" colors – Jellie Pink, Leg Warmer Orange, Valley Girl Violet, Banana Clip Yellow, and Argyle Green. These are best suited on adult coloring books that print the images on only one side of the page (like the 2 Old 2 Color series!).
Pros:
Beautiful rich colors
Smooth on the paper
Easy to use
Long lasting
Dries quickly
Cons:
Bleed through requires that you use a slip of paper in between images
Cannot be used on books that print images on both sides of paper
You will soon want more colors  🙂
Fine Point Sharpie 80's Glam package of 24 markers   Ultra Fine Point Sharpie 80's Glam package of 24 markers     (I suggest getting one of each)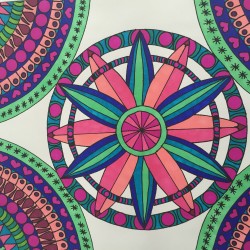 This image from 2 Old 2 Color: Wild Child was colored using these Sharpie markers.
GEL PENS
 The nice thing about gel pens, at least the ones that I am reviewing here, is that they not only come in a large selection of colors, but also in metallic and glitter. Who wouldn't want to color with a glitter gel pen? My favorite gel pens (so far) are a generic brand that you can find on Amazon. They are listed as Best Gel Pens and come in a package of 60 pens. Although there are 60 pens, some are duplicates and the actual breakdown is 6 Neon colors, 7 Pastel colors, 14 Metallic colors, and 14 Glitter colors.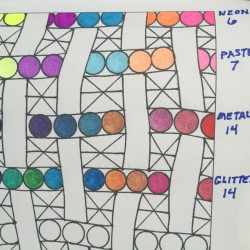 Here is an example of the various types of colors – Neon, Pastel, Metallic, and Glitter.
Here is a closer look at the shine of the Metallic and Glitter pens.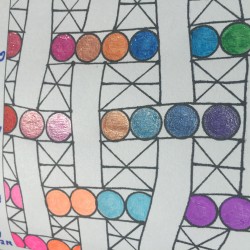 Pros:
Lots of colors
Lovely Metallic and Glitter variations
Smooth action across paper
Cons:
Drying time is a little longer than Sharpies so you need to be careful to not smudge fresh ink
You need to push a little harder than with markers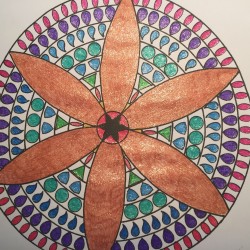 This image was colored with the Glitter pens from the Best Gel Pen pack of 60 pens. This photograph doesn't really do it justice, but you can still see the beautiful glitter effect. Really fun!
COLORING PENCILS
 The coloring pencils that I am recommending are US Art Supply Watercolor Pencils. The package comes with 36 rich colors and comes with a reusable plastic case that nicely sorts the pencils. Unlike regular colored pencils, these pencils can be used wet or dry and you can blend multiple colors. Using them wet results in a deeper color. Just dip the tip of the pencil in a cup of water while coloring. I need to spend more time experimenting with these, but I like the results so far.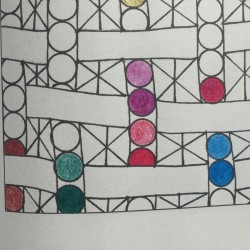 Here is a sample of what the pencils look like "dry" and then "wet." Notice the green circles. The bottom circle is wet and the top green circle is dry. I did the same thing with the purple, red, and blue circles. The bottom circles show the image when colored with a wet tip and the top circle shows the image with a dry tip. Either way, the result is nice, but the wet pencils clearly create a darker, richer color.
Pros:
Full 36 different colors
Package assorts the colors according to shade
Ability to blend colors
Nice smooth coloring tips that slide across the paper
Cons:
There are none. These are excellent colored pencils.
I enjoyed using all three of these to color the images in my 2 Old 2 Color adult coloring books. All worked well. If I had to choose a favorite, I would have to go with the Sharpie markers. Like I said, though, be sure to get both packages – Fine and Ultra Fine Sharpie Markers. You will need both sizes for coloring. Although, I did love using the glitter gel pens. And I'm dying to try blending the colors with the watercolor pencils. So, I guess it depends on my mood. Sometimes I'm a marker girl, sometimes I love the gel pens, and sometimes I love the watercolor pencils. Why limit yourself?  🙂
Happy coloring!