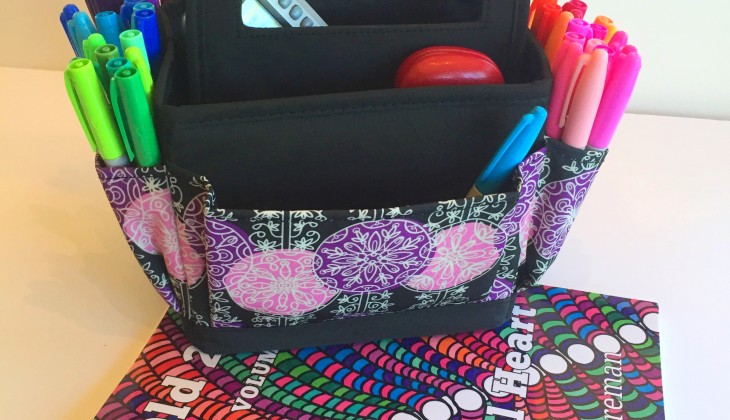 I love being organized. Whether it is my Sharpie markers for my 2 Old 2 Color adult coloring books, or the spices in my kitchen, I feel better when things are organized and easy to find. This Everything Mary Desktop Scrapbook Organizer is my latest favorite way to organize! It is listed as a tote for scrapbooking, but I have found it to be perfect for my Sharpie markers.  Here is what I love about it.
Everything Mary Desktop Scrapbook Organizer Review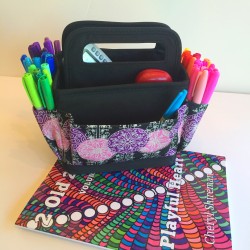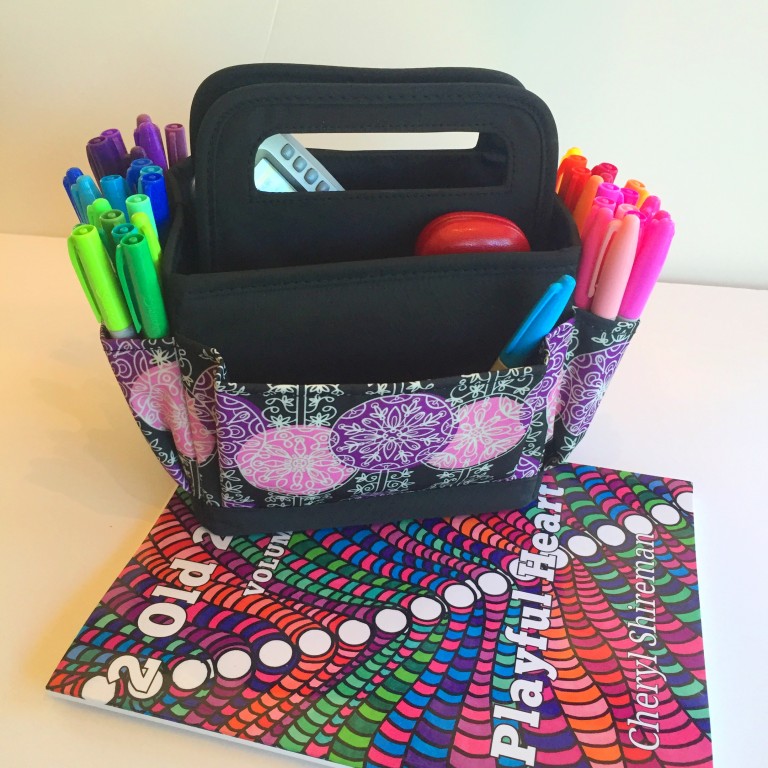 SIZE The size is perfect. It is difficult to tell the size in the photo on Amazon, so I added some items to mine so you can get an accurate idea of the size. I slipped a large tv remote and an eyeglass case into the interior sections to give you an idea of their size.  I thought it would be bigger than this and was delighted at this compact size. 6 inches wide x 6 inches tall (not counting handle) and 9.8 inches in length are the dimensions listed on Amazon.
DURABILITY  I haven't had my Everything Mary tote long enough to truly test durability, but I would guess that it is very durable because it is made of a heavy canvas material and it appears to be nicely constructed. It also holds its shape well when sitting empty. I like that.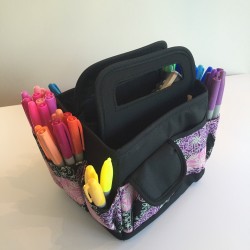 STORAGE Lots of storage for such small tote! There are three large interior sections (where the tv remote and eyeglass case are located).  The tote also has three expandable pouches at each end (six in in total) that are perfect for separating my Sharpie markers by color. There are three other outsize pouches on the bag, one with a closeable Velcro flap.
EASE OF USE The Everything Mary Desktop Scrapbook Organizer is wonderful for seeing lots of things at once. Ideal for any kind of crafting, scrapbooking, or coloring project. The bottom is also flat so it easily sits next to you on the couch, in the bed, or on a desk (whether fully loaded with items or empty).
APPEARANCE I love the black/pink/purple combination. Very pleasing and attractive.
SUGGESTED USES:
Coloring supplies for adult coloring books!
Scrapbooking
Crafting
Reading tote
Would be great for use in bed for a sick child or ailing adult
Toy tote for carrying small toys from room to room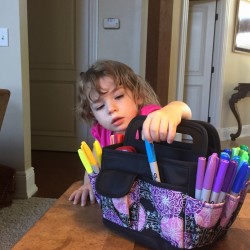 I think this Everything Mary Desktop Scrapbook Organizer would be a perfect birthday or Christmas present for almost any woman on your list – from two to ninety-two. As I write this review, my two-year-old granddaughter, Katherine is pulling my nicely organized Sharpie markers from one pouch and putting them into another, counting as she does it "One, two, free, four, fibe, free, four, fibe, six, seven, eight, nine, ten." . Maybe I will try to be organized after her visit.